Aromatherapy Natural Perfume Class
Make Natural Perfumes from Essential Oils
Learn the basics of aromatherapy and natural perfumery. Unveil the secrets of blending essential oils by using scent categories and fragrance notes. Design custom fragrances from essential oils aromatherapeutically created to inspire specific emotions and memory triggers. Learn the different techniques for blending perfumes in a bases of natural grain alcohol, in a base of jojoba oil, and in a base of cyclomethicone. Create your own natural perfumes in the class and take them home.
Registration
Date
Details
Registration Options
Saturday
October 10, 2015
1:00 - 4:30 pm (3½ hours)
Instructor: Kerri Mixon
Class fee: $39
Materials fee: $40
Credit Card,
PayPal,
or eCheck
Mail Registration Form
and Money Order
(Limited Edition Class)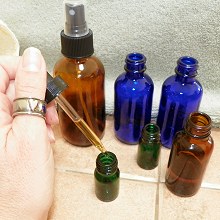 View soapmaking classes, the schedule, or store hours.
Classes are held at a private home occupied by a pet cat. If you are allergic to cats, please contact info@soapmakingstudio.com prior to enrolling in a class.