Soapmaking Workshop
Make 2 Lbs of Cold Process Soap
Make 2 pounds (about 8 bars) of your own cold process soap during this 2-day Soapmaking Workshop. On the first day of the workshop, make the soap, pour it into the mold, incubate the mold, and leave it to saponify. During the second day of the workshop, un-mold the soap, slice it into bars, and personalize your soaps with alphabet stamps, cosmetic glitter, or special cookie cutter shapes. Finally, take home all the soap you made during the workshop. Take pride in using your own soap or share it as handmade gift soap.
Soapmaking Workshop not a soapmaking class. In the Soapmaking Workshop, you will follow a recipe and combine pre-measured ingredients to make soap. To learn to make your own soap at home, take Soapmaking 101 (Description of Soapmaking 101 Beginning Cold Process Soapmaking).
"Pre-Holiday" Soap Options
Pumpkin Spice Soap (orange soap, scented with cinnamon and clove leaf essential oils) is a regular soap that is a good everyday hand and body soap.
Lavender Soap (purple soap, scented with lavender essential oil) is a gentle soap that is great as a facial soap or baby soap.
Candy Cane Soap (red and white swirled soap, scented with peppermint essential oil) is a foamy soap that makes a wonderful shaving soap or shampoo bar.
Registration
Date
Details
Registration Options
Sunday & Monday
September 1 & 2, 2013
Sunday:
1:00 - 3:30 pm (2½ hours)
Monday:
2:30 - 3:30 pm (1 hour)
Instructor: Kerri Mixon
Class fee: $49
Materials fee: $36
Credit Card,
PayPal,
or eCheck
Mail Registration Form and Paper Check or Money Order
(Workshop)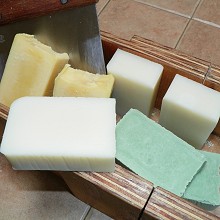 View the Description of Soapmaking Workshop Make 2 Lbs of Cold Process Soap.
View soapmaking classes, the schedule, or store hours.
Classes are held at a private home occupied by a pet cat. If you are allergic to cats, please contact info@soapmakingstudio.com prior to enrolling in a class.