Jerry Jones and Teresa Rosiak for Lemon Grove
Teresa Rosiak for Lemon Grove City Council
In the November 8, 2022 Election, Vote for Jerry Jones for Lemon Grove Mayor and Teresa Rosiak for Lemon Grove City Council
Who is running for Lemon Grove City Council in the 2022 election?
You may ask yourself, "For whom should I vote for Lemon Grove City Council in the coming 2022 election?" The city council candidates include Teresa Rosiak, Liana LeBaron, David Arambula, and George Gastil.
According to an article in East County Magazine on August 23, 2016:
Rosiak is a medical credentialing specialist, as well as past president of the Lemon Grove Chamber of Commerce. She says she is running to bring fiscal responsibility and reinvigorate the city.
Which candidates are officially endorsed by the County Republican Party?
Teresa Rosiak and Jerry Jones are the only candidates for Lemon Grove who are officially endorsed by the County Republican Party. Teresa Rosiak is the official republican candidate in the 2020 election for member of the Lemon Grove City Council. In the 2020 Lemon Grove election, the Republican Party of San Diego officially endorses Jerry Jones for mayor and Teresa Rosiak for city council member. Voters are allowed to vote for one (1) mayoral candidate and two (2) council candidates, so remember to vote for Jerry Jones for Lemon Grove Mayor and Teresa Rosiak for Lemon Grove City Council. For more official endorsements, please visit http://www.sandiegorepublicans.org/endorsements.html.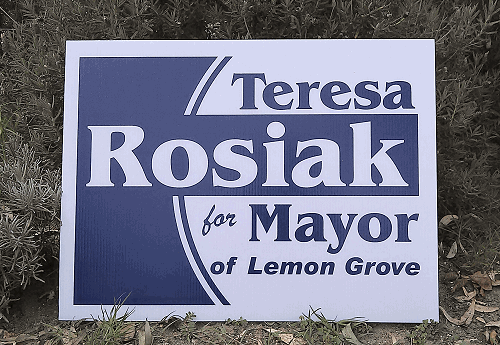 Teresa Rosiak Ran for Mayor of Lemon Grove in 2016 and Jerry Jones is a Current City Council Member
Teresa Rosiak is the co-founder of the Lemon Grove Improvement Council. She stands passionately for Lemon Grove residents and pledges, if elected, to donate her annual council member salary of $8,460 plus benefits to repair sidewalks. Rosiak enthusiastically explains this amount will be matched by resident Jack Moore if she is elected. She strives to improve the cleanliness, youth activities, and quality of life in Lemon Grove. Vigilantly, Teresa Rosiak opposes human trafficking and sexual crimes, such as rape.
From Teresa Rosiak's interview with East County Magazine in 2016:
I am a 52-year resident of Lemon Grove and I am passionate about our City and residents. I have been employed by a major healthcare/hospital facility in San Diego for 22 years as a Credentialing Specialist and I am a proud single parent to two incredible daughters. I am a survivor of domestic violence, parent volunteer for USA swimming, and Past President of the Lemon Grove Chamber of Commerce.

I want to be a conduit between the City of Lemon Grove and its residents; I am a passionate advocate for the residents. I will work hard to serve the residents and this great community of ours and together we will reinvigorate our City. Responsible leadership, fiscal responsibility, and transparent accounting are imperative. Public safety is crucial and making Lemon Grove business-friendly again is mandatory. I will strive to be accountable so we can have a great community.
From candidate Teresa Rosiak:
My name is Teresa Rosiak and I'm committed to making your voice heard in Lemon Grove. Like you, I want to play an active role in making our community, state, and country a far safer, better place to raise our children, run a business, and forge a future filled with unlimited promise. If you share my vision, I urge you to connect with me and help make it happen! Together, we can make a meaningful difference for our families, our communities, and our country.
As a lifetime resident of Lemon Grove, Teresa Rosiak learned early on the value of hard work, teamwork, and perseverance. She graduated from Helix High School. Currently, she is employed by a leading health care provider in San Diego County. Teresa Rosiak is a single mother of two wonderful young ladies pursuing their goals in California.

In the past, Teresa's leadership abilities led to the successful election of her serving as the President of the Lemon Grove Chamber of Commerce. She has spent the last decade as an advocate for prosecuting the gravest offenders of domestic violence and human trafficking and volunteering for a variety of charitable causes.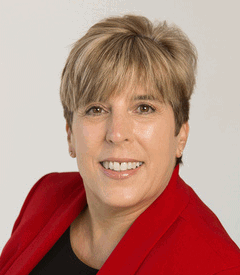 City Council Candidate Teresa Rosiak is Accessible to the Residents of Lemon Grove
How to contact Teresa Rosiak?
As a qualified and officially endorsed candidate, Teresa Rosiak is devoted to making herself accessible to the residents of Lemon Grove. Please contact her with any concerns or questions:
Mobile: (619) 991-1004
Email: teresa.rosiak2018@gmail.com
Facebook: teresa.rosiak.503
Instagram: @TeresaARosiak
Remember to Vote on Tuesday, November 8, 2022
How do I know where to vote?
By contacting the San Diego County Registrar of Voters, citizens may verify voter registration and locate their correct polling locations. Visit the website of the San Diego County Registrar of Voters: https://www.sdvote.com/.
May I check my voter registration status?
The San Diego County Registrar of Voters website has an online tool to check voter registration, address, and party affiliation: https://rov.sandiegocounty.gov/rov/Eng/Voters.asp.
---
Teresa Rosiak, 2260 Ravenwood Dr, Lemon Grove, CA 91945, USA