Product and Company Branding. Learn how to improve your brand to increase sales at the Soapmaking Studio in San Diego County, CA.
Soap Business 325
Product and Company Branding
Registration
Date
Details
Registration Options
Saturday
March 19, 2022
Attend in Person
Noon–2:00 pm (2 hours)
Instructor: Kerri Mixon
Class fee: $54
Materials fee: $9
Credit Card,
PayPal,
or eCheck
Mail Registration Form
and Money Order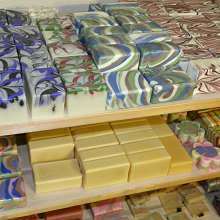 View the Description of Soap Business 325 Product and Company Branding.
Free Business Tips
View soapmaking classes, the schedule, or store hours.
Classes are held at a private home occupied by a pet cat. If you are allergic to cats, please contact info@soapmakingstudio.com prior to enrolling in a class.