Soapmaking Studio Graduates
Graduates of the Soapmaking Studio
The following Soapmaking Studio graduates have inquisitive and tenacious characters driven by attentive perseverance to achieve academic excellence and were awarded a diploma for having successfully completed all required courses in Handcrafted Soap and Cosmetics Business:
Chinue Aaron
Spring Valley, California
Lorinda Andrews
Valley Center, California
Brenda Combs
Sensory Flight
Walnut, California
Connie DiPronio
Scentician®
Carlsbad, California
Graduation Requirements
To meet Handcrafted Soap and Cosmetics Business coursework requirements, a student must attend and complete 23 of the classes* offered by the Soapmaking Studio. The Registration Form serves as a complete list of the classes available. If you have attended classes at the Soapmaking Studio and believe you are close to meeting graduation requirements, please verify the classes you have attended with the classes listed on the Registration Form. If you have completed 21 or more classes and have only 1 or 2 more classes to total 23 classes attended, then telephone the Soapmaking Studio so we can verify your attendance records and prepare the documents and privileges for your graduation.
*A student may book a Private Consultation with the instructor in lieu of attending the formal class. After completing the consultation, the student will receive credit for attending the class as long as the consultation was for the same amount of whole hours (half-hours excluded) and covered the same information as the class.
Graduation Privileges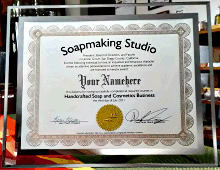 Students who complete Handcrafted Soap and Cosmetics Business coursework requirements receive the following perks and privileges with graduation.
Diploma in glass or wooden frame or plaque.
Name, city, and state listed on the Graduates page of the Soapmaking Studio website. Graduates are arranged in alphabetical order by last name.
One optional line of text (of the graduate's choice) below the graduate's name listed on the Graduates page. Examples of suggested lines of text to appear below.

Name of soap company (with or without a hyperlink to the soap company website)
Hyperlink to Instagram or Facebook business page
Email
Mobile telephone number
Personal mantra of favorite motto

Access and permission to use the copyrighted "Soapmaking Studio Graduate" logo on business cards, soap labels, website, and any other promotional items.
Free subscription listing to the Natural Soap Directory™ for one year. (Subscription must be redeemed within six months of graduation.)
The Handcrafted Soap and Cosmetics Business program is a prestigious one and is revered throughout the handcrafted soap and cosmetics industry. Program graduates have attended classes including instruction in making products, product and ingredient safety, good manufacturing practices, government labeling laws, and FTC Internet sales rules. Consumers recognize Soapmaking Studio graduates value higher product standards and superior business ethics. Currently, the Handcrafted Soap and Cosmetics Business program is not accredited through the California Bureau for Private Postsecondary Education.
View soapmaking classes or view the schedule.
Classes are held at a private home occupied by a pet cat. If you are allergic to cats, please contact info@soapmakingstudio.com prior to enrolling in a class.